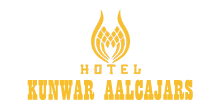 Dining
Dining at Hotel Kunwar Aalcajars is a real pleasure, with a choice of menu in restaurant all offering warm, friendly service and a delicious range of dishes from around the world. Our spectacular location ensures we get the offer authentic local dishes prepared using the finest ingredients from local markets.
Jhonny Cafe & Restaurant
Jhonny Cafe & Restaurant caters authentic Indian and chosen best cuisines across the sea. Real taste is returned to its truth, without any superfluous ingredient. Preparations are purified to leave room to the strength of taste. Going back to basics is also to respect the rhythm of the seasons.
You can choose from a wide range of delicious food from our modern Indian menus. Our delicious and innovative menu varies according to the season and can be sampled in an intimate contemporary environment.
An all-day dining multi-cuisine restaurant serving a wide spread for breakfast, lunch and dinner. You can also choose from an international selection of menu. If you are still looking for something special, don't hesitate to talk to our chefs who can customize it to your needs.